BNG is Burlington's Oldest Networking Group
We Meet Every Other Wednesday
Breakfast Overlooking Lake Ontario
Guest Speakers, Summer BBQ, Christmas Party And No Fines
Take Advantage Of The Best Deal In Town, Come For A Free Breakfast
And Check Us Out.
Please contact Salma to ensure we have

enough breakfast for all.

The Burlington Networking Group is an Exclusive Business Category Group


BNG Christmas Party
Wednesday December 13th Emma's Back Porch
REMEMBER NO MORNING BREAKFAST!
Location: Emma's Back Porch (click here for map) - walk through the OTHER doors to the left of the Water St doors; walk through to the back area, our area will be on the right side at the back.
Time: starting at 6:00 pm
Parking: Parking is available in the parking lot we use in the mornings. If full, there is another parking lot on the north side of Lakeshore Road, beside Elizabeth Street Pharmacy. If the gate is locked, then there is street parking available on Pearl & Martha St.
Gifts: we will NOT be trading gifts. There WILL BE a donation box to collect monetary donations for the Salvation Army.
Drinks: it will be a cash bar. You and your guest's meal are covered by BNG only.
Can't make it??? Let me (Salma) know - you can text/phone me at 416-278-6500 anytime that day.
I look forward to seeing you and your guest at our annual Christmas Party next Wednesday! ~ Salma
A Great Deal
Best Business Networking Deal in Town
Enjoy Breakfast overlooking Lake Ontario
Network with other business owners
No Fines
Guest Speakers
Hear guest speakers once a quarter, speak on a wide range of topics that affect you and your business.
Social Events
Take in social events twice per year.
Summer BBQ and Christmas party
Discover Burlington and Area local business community!
Make other businesses aware of your presence and involvement in the community.
Get advice and assistance for all areas of your business and personal life.
Locate other businesses that can supply services and products for you or find new outlets for your products and services.
Learn how other companies conduct their affairs and achieve success.
We have members from Burlington, Oakville, Hamilton and beyond.
BURLINGTON NETWORK GROUP SCHEDULE - 2017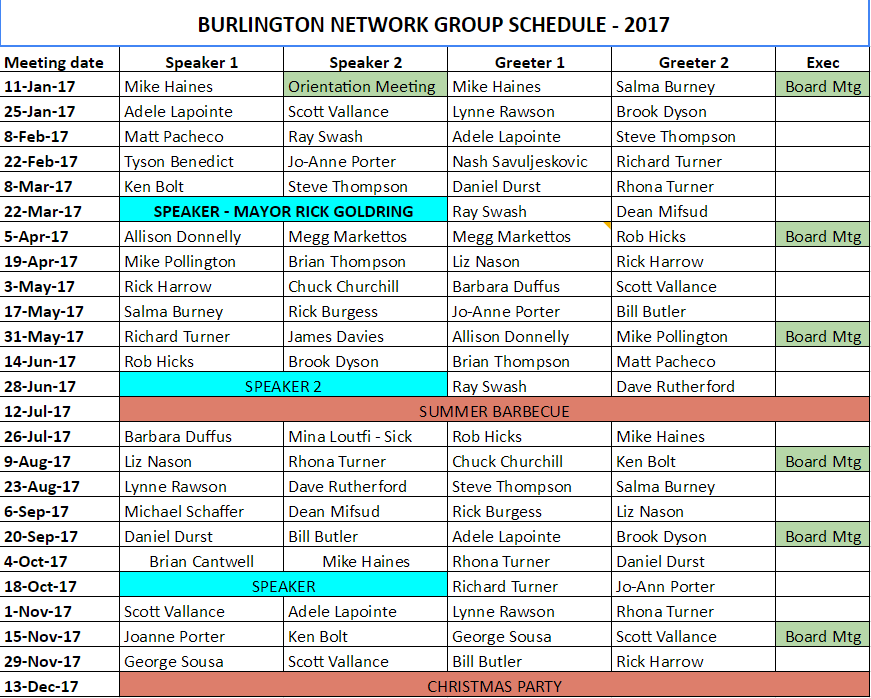 __Around The Burlington Network Group