BNG is Burlington's Oldest Networking Group
We Meet Every Other Wednesday
Breakfast Overlooking Lake Ontario
Guest Speakers, Summer BBQ, Christmas Party And No Fines
Take Advantage Of The Best Deal In Town, Come For A Free Breakfast
And Check Us Out.
Please contact Salma to ensure we have

enough breakfast for all.

The Burlington Networking Group is an Exclusive Business Category Group


SEAN MALLEN - Guest Speaker - June 28th
If you are not a BNG member and would like to attend, please contact Salma
For more than 30 years Sean was an award-winning reporter, covering major stories across Canada, America and around the world. For Global TV News, he was the London-based Europe Bureau Chief, Ontario Legislature Correspondent and Host-Producer of the influential Focus Ontario program—a must-view show for political power brokers, where he interviewed dozens of senior ministers from both the federal and provincial governments.
He is a four-time winner of the Radio-Television News Directors Award for excellence in broadcast news and was awarded a Bronze Medal at the New York Festivals in an international competition for Best Correspondent for his coverage of postwar Kosovo.
He covered multiple elections—Canadian, American and international, including the 2004 and 2008 US presidential races, as well as Vladimir Putin's most recent election and the first true democratic election in Egypt in 2011. He has been a witness to history-making events such as the Papal Conclave, the Royal Wedding and the Arab Spring, been on the front lines of crisis, from political scandal at the White House to disasters such as the wreck of the Costa Concordia, the Swissair Crash off Nova Scotia and the Walkerton water tragedy.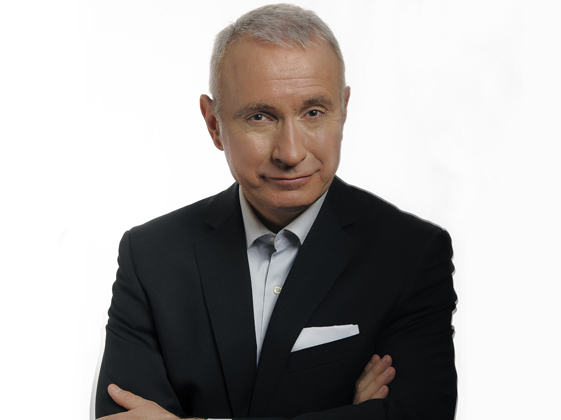 Sean is now a communications consultant, bringing his decades of experience and deep knowledge of the news media to offer high level advice to government, industry, educational institutions and nonprofit organizations.
With deep insights in the news media, he is a calm and knowledgeable hand in the face of communications crises. He delivers keynote addresses to industry organizations in both Canada and the US, offering practical advice on how to handle the news media onslaught in the face of disaster.
He brings unparalleled real world expertise to media training, having interviewed Prime Ministers and Premiers, Nobel laureates and notorious murderers, CEOs and shantytown dwellers.
His media training program 10,000 Interviews delivers realistic exposure to all formats, based on extensive experience as a frontline journalist and anchor. Participants receive expert, insider advice on how reporters work, how to deliver a message effectively and how to handle aggressive questioning. Among the senior executives he has trained are leaders at CN Rail, Goldcorp, the Ontario Trucking Association, the Centre for Addiction and Mental Health and the Association of Power Producers of Ontario.
His companion training program Powerful Presentations offers wise, practical counsel on how to persuasively speak in public to audiences large or small, focusing on vocal projection and elocution as well as how to effectively structure a compelling presentation.
An acclaimed writer, he guides clients in crafting eloquent messages to drive strategic communications plans--bringing a reporter's eye to earned media strategies.
Drawing upon a long career writing scripts for both national broadcasts and his own presentations, he produces speeches that are entertaining and enlightening, informative and accessible and has written important speeches for a senior cabinet minister articulating key government initiatives.
Sean is also an occasional panelist on Newstalk 1010 Radio Toronto and enjoys a sideline of writing travel stories for major Canadian and British dailies.
A Great Deal
Best Business Networking Deal in Town
Enjoy Breakfast overlooking Lake Ontario
Network with other business owners
No Fines
Guest Speakers
Hear guest speakers once a quarter, speak on a wide range of topics that affect you and your business.
Social Events
Take in social events twice per year.
Summer BBQ and Christmas party
Discover Burlington and Area local business community!
Make other businesses aware of your presence and involvement in the community.
Get advice and assistance for all areas of your business and personal life.
Locate other businesses that can supply services and products for you or find new outlets for your products and services.
Learn how other companies conduct their affairs and achieve success.
We have members from Burlington, Oakville, Hamilton and beyond.
BURLINGTON NETWORK GROUP SCHEDULE - 2017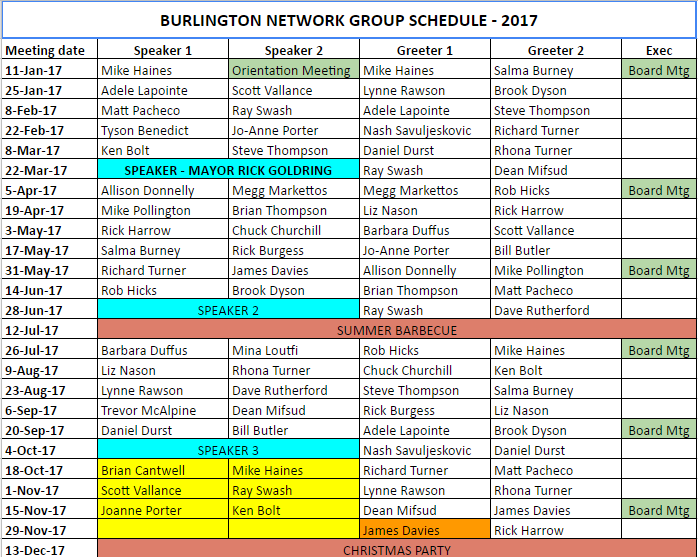 __Around The Burlington Network Group